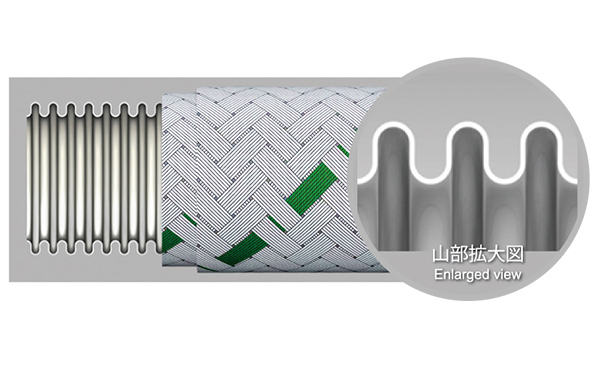 Metal Flexible Tubes

Annular
SA-SD
Super Annular for medium pressure
Structure
Annular type
Nominal dia
3A - 50A
Materials
Tube material : SUS304, SUS316L
Braid material : SUS304
The number of Ply
SA-SD-0 Unbraided
SA-SD-1 Single braid
SA-SD-2 Double braid
Features
・Excellent durability for repeated movements thanks to even & thick thickness throughout corrugations.
・Improving the durability avoiding twisting the neck of hoses as the disadvantage of spiral hoses.
Special high pressure hose meeting the requirements of Flexibility class1, ISO10380 : 2012. (size: 8A-50A braid: double braid)
SB hose achived 10000 cycles for Fatigue life test conducted with the designated strokes with tha shape of "U" at the minimum dynamic bending radius and the working pressure.
Size chart